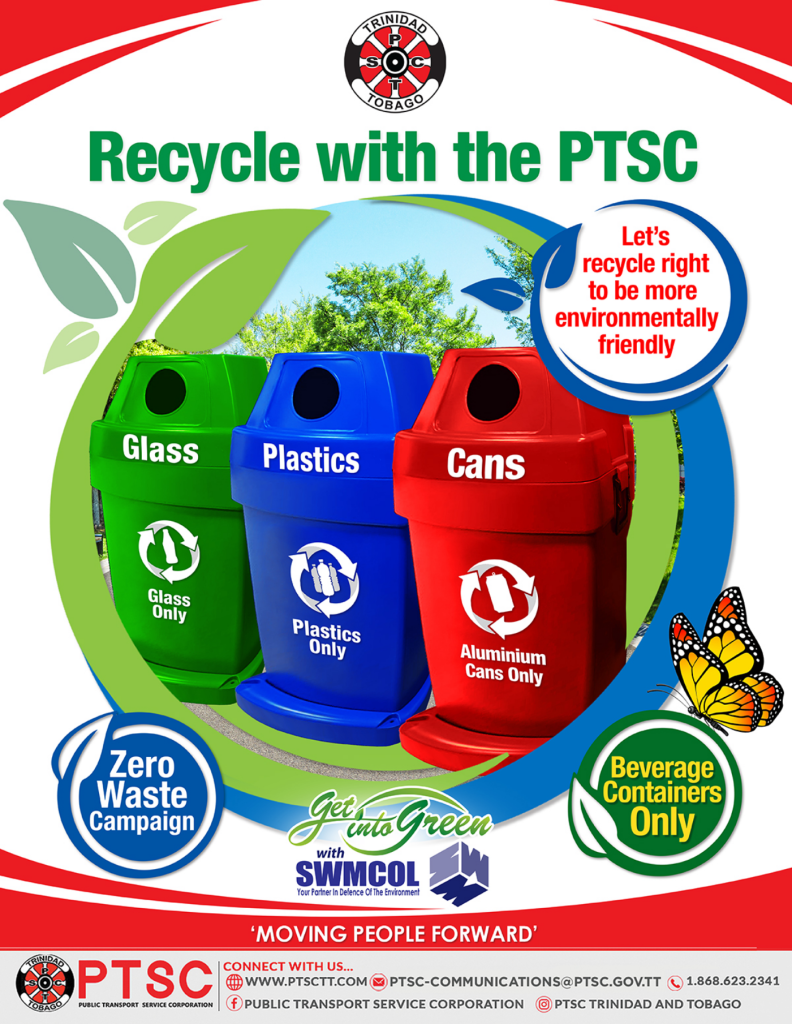 PTSC LAUNCHES
ITS ZERO WASTE CAMPAIGN
The Public Transport Service Corporation (PTSC) held its Zero Waste Campaign Launch on March 18th, 2022-Global Recycling Day. The PTSC saw this as an opportunity to install eighteen (18) recycling bins on its Port of Spain City Gate terminal.
Being cognizant of our carbon footprint due to our daily operations, the PTSC has embarked on a number of environmental initiatives to become more environmentally friendly. These environmental initiatives are strategically aligned to the Government of the Republic of Trinidad and Tobago's commitment to reduce GHG emissions by December 31st, 2030. The Zero Waste Campaign aims to minimise the waste generated by the PTSC, and the recycle bins are one facet of this operation extended to commuters.

Present at the Launch were His Worship Alderman Joel Martinez,
Mayor of Port of Spain, Chairman of the Solid Waste Management (SWMCOL) Mr. Ronald Milford, Chairman of the PTSC Mr. Edwin Gooding and other Board and Management representatives of the PTSC.
Chairman of the PTSC Mr. Edwin Gooding remarked, "Through the development of our Strategic Plan 2018- 2020 the PTSC is not only committed to providing a safe, cost- effective and reliable bus transportation system across communities but has pledged its commitment to greening its operations. The impact from this single initiative will see thousands of plastic bottles and other non-biodegradable waste collected for recycling, even lessening the occurrence of flooding in downtown Port of Spain which is, in some part as a result of littering."
To promote citizen engagement and awareness of this initiative, the PTSC partnered with SWMCOL who is the key stakeholder in waste disposal and recycling. The accumulated waste collected from these recycling bins will in turn be collected by SWMCOL.
The PTSC remains committed to becoming more resource –efficient, doing our part to preserve our planet's most precious resources.